We hope you find this page useful as it is loaded with links to just about every topic related to running. If you find a great site that is not listed, please
click here to submit it to the Webmaster.
We appreciate reciprocal links.
Favorite Links & Partners:
Bradenton Runners Club:
running club serving the Manatee County area in Florida
Facebook Fan Page for RunnerGirl:
follow RunnerGirl's blog, check or share race results, or be inspired by the daily message
On A Shoestring:
Bradenton's running store
top of page
Race Calendars, Publications, & Sites Dedicated to Running
Active.com:
online race registration, race calendar, articles
Alta Vista Sports:
online race calendar, event management, timing, results
American Running Association:
Providing runners with information related to training, nutrition, sports medicine, and fitness
Canes Classic 5K:
official site of the Canes Cross Country Classic 5K on Labor Day
Cool Running:
race results, race calendar, running news
De Soto 5K Run:
De Soto 5K Run in Bradenton - run the parade route in front of parade! Run up the middle of Manatee Avenue with the streets lined with thousands of spectators.
Florida RacePlace Magazine:
online & print race calendar, entry forms, results, articles
Florida Running & Triathlon:
the official publication of USA Track & Field in Florida; includes online & print race calendar, news, results, entry forms, and more.
State rankings for 5K, 10K, half marathon, & marathon.
See how you rank in your age group across the state!
flrunners.com:
the site
for Florida high school and college running; includes race calendar, results, forums, and news for cross country, track, and road racing
HalfMarathons.net:
Find & Run Half-Marathons in the USA and Around the World
K-Swiss 10K at Heritage Harbour:
USATF certified 10K race in Bradenton; takes place in early April in east Bradenton; this race is often the RRCA-FL 10K State Championship!
Manatee River Run 5 Miler:
Florida's Best 5 Mile Race & Post Race Party;
RRCA-FL State Championship 5 Mile Race
Marathon-World.com:
Marathon races in 59 countries
RRCA:
The Road Runners Club of America (RRCA) is dedicated to supporting the growth of grassroots running clubs, running events, and promoting the interests of runners throughout the US. Find clubs, races, coaching, and much, much more.
Roadtrip:
Offers groups the opportunity to form an on-line league where participants can track their daily mileage in a 'virtual' way along a variety of real city-to-city journeys. Each runner logs his/her miles on the site and can then view the progress of other runners in their league. The web-site mission is to help people begin or continue their exercise program in a motivational way.
RunnerGirl.com:
Everything for the female athlete - coaching, training tips, injury prevention, cross training, motivation, racing information, and RunnerGirl brand running apparel
Runner's World:
running magazine -
click here to purchase a subscription
Running Network:
National race calendar, running news, results, and more
Running Times:
running magazine -
click here to purchase a subscription
Run The Planet:
World Wide Resource for Runners
RunWalkJog.com:
Running Race Calendar, Running Information, Online Registration And Results. Free Classifieds.
USATF:
USA Track & Field (USATF) is the National Governing Body for track and field, long-distance running and race walking in the United States. Find clubs, races, athlete bios, running news, and search for a USATF certified race course.
top of page
Shopping
RunnerGirl's Online Store:
RunnerGirl oval magnets & stickers, short & long sleeve running shirts, backpacks, training logs, and the BEST RUNNING HAT EVER!
RunnerGirl's Gift Shop:
RunnerGirl sweatshirts, hats, cotton apparel, stickers, water bottles, cute gifts, and more. Also featuring "CC Princess" and "I know I run like a girl TRY TO KEEP UP!"
Bra Diva:
find a sports bra that won't let you down!
Fuel Belt:
Original pioneers of hydration belt design and running accessories.
BRC members save 15% on your purchase - use this discount code: RRCA
On A Shoestring Inc.:
Bradenton's Running Store - shoes, socks, hydration systems, running apparel, sunglasses, BODYGLIDE, and more.
3633 Cortez Rd W (in College Plaza), Bradenton, FL 34210 -
Purchase RunnerGirl apparel here!
Road ID:
Be safe out there! Wear Road ID.
Runner Girl:
RunnerGirl running apparel and accessories, also casual apparel, cute gifts, and more! Our short sleeve tech tees are the most comfortable out there and treated with Scotchguard to prevent smelly tech tee syndrome.
Shoe Wallet:
Carry keys, money, or identification in this lightweight, high quality, water resistant shoe wallet.
Track Shack:
Orlando area specialty running store
top of page
Injury Prevention
Everything About Achilles Tendons:
The Achilles Tendon Encyclopedia for people who: have an Achilles tendon injury, want to recover from an Achilles tendon injury, and want to prevent (or prevent the recurrence of) an Achilles tendon injury.
Injury Prevention Exercises & Tips from RunnerGirl:
Injury prevention tips and exercises for men and women of all ages and abilities who wish to avoid injury. The key to a healthy lifestyle is to stay injury free in order to enjoy the full benefits of exercise. Stay healthy, increase your fitness level, and add variety to your workouts by incorporating cross training, massage, strength training, stretching, and yoga to your training program.
Prevent shin splints with this easy exercise.
Medical Arts Rehabilitation:
"Get Better Physical Therapy!" Tim Richardson, Physical Therapist is a proud member of the Bradenton Runners Club. We are runners treating runners' injuries with physical therapy. Download our Runners' Article Six Exercises Every Runner Needs at
www.MedicalArtsRehab.com.
Yoga Basics for Runners:
The pain most runners feel is not from the running in and of itself, but from imbalances that running causes and exacerbates. If you bring your body into balance through the practice of yoga, you can run long and hard for years to come. Yoga will help you increase range of motion, agility, flexibility, lung capacity, endurance, and strength.
top of page
Cross Country & Track
Canes Cross Country Classic:
official site of the Canes Cross Country Classic 5K on Labor Day
DyeStat:
high school track & cross country
MileSplit.us:
The nation's premier high school and college track & field and cross country network
Track-and-Field.net:
Thousands of categorized Track & Field links
USATF:
USA Track & Field
top of page
Running Terms
10K Pace:
10K pace, when used in a workout to describe how fast to run, is simply the pace of a runner's last 10K race. "10K pace" is therefore different for every runner; for a 62:00 10K runner, "10K pace" is 10 minutes per mile and for 31:00, it's 5 minutes per mile, etc.
Chip Time:
A technology for sensing and recording the finishing times of all the runners in a race. The "chip" is a tiny electronic chip that's programmed with your specific runner identification. You attach the chip to your shoelaces. It sends a signal to an electronic reading device, often hidden under a strip of carpet, when you cross the start line and again when you cross the finish line. Your exact time is recorded automatically. Usually you are asked to turn the chip back in to the race organizers.
Cool Down:
Slow running or jogging done after a workout or competition to loosen the muscles and rid the muscles of waste products.
DNF and DNS:
Acronyms for Did Not Finish and Did Not Start
DOMS:
Delayed onset muscle soreness. This type of muscle soreness normally peaks about 48 hours after a particularly intense or long run.
Hitting the Wall:
The dreaded point (and awful feeling similar to what your body would feel like if you ran into a wall) during a race when your muscle glycogen stores become depleted and a feeling of fatigue engulfs you.
Last:
A shaped piece of wood or metal on which the shoe is built. The shape of the last determines the shape of the shoe. Shoes are made in three basic shapes: straight, curved and semi-curved, but all three shapes vary from company to company as each company has its own lasts.
Long Runs:
Usually between 60 and 90 minutes at a comfortable, conversational pace, except on the 3/1 days. A 3/1 run is one in which you run the first three-fourths of the distance at a comfortable pace, then accelerate to near (marathon or half marathon) race pace over the last one quarter of the workout (but, finish refreshed, not fatigued).
LSD:
Long Slow Distance. A term for the longer, slower runs done in between more difficult workouts. An ideal training plan will use the hard/easy concept where easy LSD runs are used to recover from harder tempo runs or speed workouts.
Max VO2:
The technical term for the maximum volume of oxygen that your body can transport to your muscles. The higher your max, the more oxygen your muscles receive, the greater your endurance. - from Amby Burfoot, Runner's World Complete Book of Running
Pace Run:
The pace at which you expect to run the half marathon (or whatever race you are training for). Example: 5 miles at race pace would be 5 miles at your goal half-marathon race pace, usually preceded by a short warm-up.
Taper:
Runners usually cut back mileage (or taper) one day to three weeks (depending on race distance) before a big race. Tapering helps muscles rest so that they are ready for peak performance on race day. A taper is a very important part of marathon training.
Tempo Run:
A tempo run is a continuous run with a build-up in the middle to near 10-K race pace. A tempo run of 40 to 60 minutes would begin with 10 to 20 minutes easy running, build to 20 to 30 minutes near the middle, and then 5 to 10 minutes easy toward the end. The pace build up should be gradual, not sudden, with peak speed coming about two-thirds into the workout.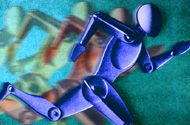 Running Makes Us Smarter:
Exercise increases blood flow to the brain, according to preliminary Japanese research presented at the American College of Sports Medicine. The findings strengthen the argument that running is as good for the head as it is for the body.
Approximate Cross Training Conversions:
One mile of swimming = four miles of running
Four miles of cycling = one mile of running
Running Clubs | Favorite Links | Resources
top of page